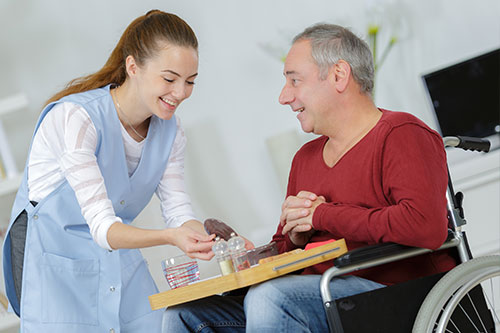 Developing Personnel Training & Consultancy
DP Training & Consultancy works with industry to develop a range of quality adult vocational education and training programs to meet the needs of their current workforce.
Whether you are seeking professional development workshops or competency based training, DP Training & Consultancy can deliver the training required to meet industry standards and support your career pathway.
All accredited courses listed on our scope of registration are Nationally Recognised and comply with the Australian Quality Training Framework, State and Federal regulatory body requirements.
In order to meet the current industry demands we have identified the need to offer flexible delivery options for all students. We are aware that in today's world many adult participants juggle the daily demands of family, work, study and social commitments. DP Training has developed flexible learning programs that match all student individual circumstances.
WHY CHOOSE DP TRAINING ?

Study Flexibility
Study Your Way! Helping you reach your study goals, no matter what.

Innovative teaching & Learning
Our industry experienced trainers and teachers help our students gain real world knowledge and skills

Support to reach your goals
Special one-on-one sessions every week to support students towards their individual goals or issues.

Above 80% Employability Rate
DP Training has been able to consistently provide job placements to students who study here.

Huge Network of Graduates
Be a part of our valuable graduate community, consisting of DP training graduates making an impact in the industry all around Australia.

Organisational Development Training
Turn you staff into high performing teams with specialised skill set trainings.

Scholarships and Student Funding
State sponsored funding available to eligible students

Career Pathway
A new way forward for your career.
STUDY YOUR WAY
At DP Training we recognise that students have other commitments and that study and training need to fit around these. That's why we offer a range of study options including:
BLOCK OR DAY RELEASE FOR APPRENTICES
A Combination OF THE ABOVE
Once you've chosen the course you want to study, call DP Training to find out which study options are available.
Debbie Goodeve — CEO & Training Manager.
OUR MOTTO
"Help You Study your Way with DP Training."
OUR VISION
Your first choice training provider for quality training and education designed for an industry ready workforce."
OUR MISSION
DP Training forges partnerships Australia wide to provide high quality, accessible, training and education programs in specific areas of the Vocational Education and Training (VET) sector to persons wanting to enter the workforce, to individuals waiting to retrain and continually upskill and to employers wanting to improve existing workers' skills.
A message to all prospective students
DP Training and Consultancy can offer all students a study option that suits your individual needs and provide ongoing support to cater to your individual circumstances.
At DP Training & Consultancy we understand that each individual has their own reasons to commence a study program, whether it is for ongoing professional development, changing a career path, gaining formal recognition for the work you do, returning to the workforce or simply starting out after time spent being away from a formal training environment.
We are aware of the challenge it presents and offer assurance and encouragement to our students through providing a supportive, quality learning environment in order for you to reach your personal goals.
We are able to advise you on the course selection in order to gain the relevant qualification required for your choice of employment and career path, then provide the training and skill development required to succeed.
We know that your selection of a training provider is a major decision for you to gain the qualification you are seeking. I am confident that from the time you enrol with DP Training & Consultancy you can be assured that you have taken the first steps toward your goal and we will stand by you throughout your chosen pathway, offering ongoing support to see you complete your chosen study path and we will encourage you to seize all opportunities to gain new skills and be prepared for the road ahead.
Many of our courses support a pathway from entry level qualifications through to Tertiary Education with linkages to set University Qualifications , the sky is the limit, what are you waiting for, review our courses today and let us help you take it the next level!
Debbie Goodeve
Operations Manager