DP Training is a Skill Assure supplier approved by the Queensland Government to deliver publicly funded training and assessment. The below programs and/or qualifications are currently available under our approval – further information about each program is listed below: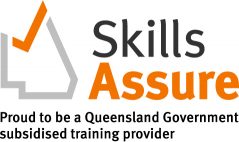 Certificate 3 Guarantee
The Certificate 3 Guarantee provides a government subsidy to allow eligible Queenslanders to obtain their first post-school certificate III level qualification. It also supports school students to access training and Queensland's Year 12 graduates to transition to employment by providing free training in high priority qualifications.
Higher Level skills
The Higher Level Skills program provides a government subsidy in selected certificate IV or above qualifications and priority skill sets to help individuals gain the higher level skills required to secure employment or career advancement in a priority industry.