Are you standing at the crossroads of your career, one path leading to Recognition of Prior Learning (RPL), a shortcut that recognises your existing skills and knowledge, while the other is traditional training, the conventional and structured approach to learning?
Are you confused about which path is right for you for your personal and professional development? 
As you stand at this crossroad, ready to begin your journey towards a growing career, here is a compass to guide you towards the path that suits your dreams and ambitions
What is Recognition of Prior Learning (RPL)?
Recognition of Prior Learning (RPL) is an assessment-only pathway that recognises and validates an individual's existing skills, knowledge, and experience, regardless of how they were acquired.
This could be through formal or informal education, work experience, or any other life experience. RPL aims to evaluate and acknowledge a person's competency in a specific field, allowing them to bypass certain aspects of a formal training program.
How Does RPL Work?
RPL involves a thorough assessment of an individual's existing skills and knowledge in a particular domain. A qualified assessor typically performs the assessment, comparing the individual's skills and knowledge against the established criteria for a specific qualification or competency. 
The RPL process involves:
Self-assessment: The process starts with a thorough self-assessment of existing skills and knowledge.
Evidence gathering: Evidence gathering is a crucial step in RPL, involving the compilation of proof showcasing competency.
Knowledge assessment: Knowledge assessment is conducted to evaluate the depth of understanding in specific domains within the qualification.
Reference check: Reference checks are performed to evaluate claims of skills and competencies through reliable sources.
Assessment mapping: This is done to align gathered evidence and knowledge with targeted certifications or qualifications requirements.
Getting Certified: Finally, successful completion of the RPL process results in obtaining the desired certification, validating existing skills, and accelerating career progression.
Benefits of RPL
Recognition of Prior Learning (RPL) offers a host of compelling advantages that make it a favourable choice for individuals looking to enhance their career prospects and educational attainment. The key benefits of RPL are:
RPL offers individuals the opportunity to showcase and gain formal recognition for the skills and knowledge they have acquired through work, life experiences, or self-study, providing a tangible validation of their competencies and expertise.
By converting existing skills into recognized qualifications, RPL propels individuals along their career trajectories, opening doors to higher-level positions and advancement opportunities in their respective fields at a faster pace.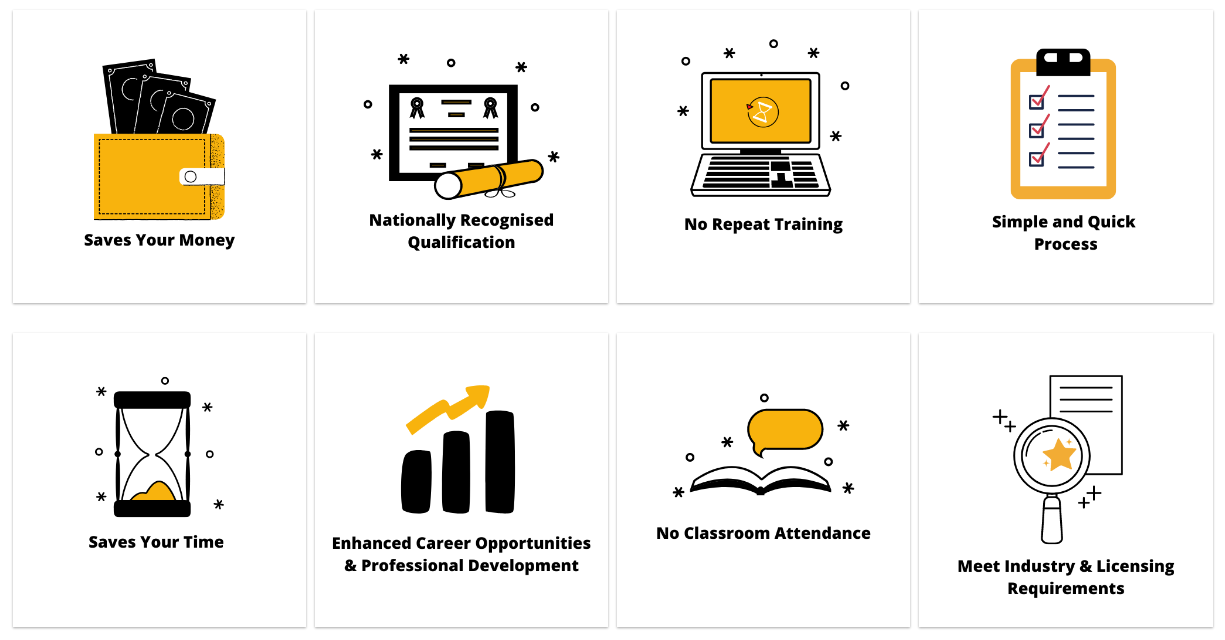 It streamlines the qualification process by exempting individuals from redundant training, minimising the time needed to achieve a formal qualification, and significantly reducing the financial burden associated with traditional educational pathways.
RPL ensures that learning aligns precisely with an individual's specific competencies and knowledge gaps, allowing for a personalised educational journey to enhance skills and address areas requiring further development.
RPL provides nationally recognized qualifications, enhancing an individual's employability within the job market by aligning their skills with industry-accepted standards and certifications.
What is Traditional Training?
Traditional training, on the other hand, follows a more conventional educational path. It involves enrolling in formal programs, attending classes, and completing assignments or exams. Traditional training can take place in various settings, including schools, universities, vocational institutions, and corporate training centres.
Traditional training programs are structured courses with predetermined curricula and learning objectives. These programs are often led by instructors or trainers who guide learners through the material.
Benefits of Traditional Training
Traditional training, often referred to as classroom or in-person training, has been a cornerstone of education and skill development for centuries. The key benefits of traditional training are:
Comprehensive Learning Experience
Traditional training offers a comprehensive learning experience by presenting a structured curriculum covering a wide range of topics, ensuring learners thoroughly understand the subject matter through a carefully designed educational journey.
Classroom Interactions and Group Learning
Traditional training fosters interpersonal skills and collaboration through classroom interactions, group discussions, and collaborative projects, promoting a dynamic and engaging learning environment.
Immediate Feedback and Evaluation
Participants receive immediate instructor feedback during traditional training sessions, enabling them to promptly address queries and clarify doubts, contributing to a more efficient learning experience.
Structured Learning Environment
Traditional training offers a structured and organised learning environment, allowing learners to progress through the course in a systematic manner and ensuring they cover all essential topics and skills effectively.
Comparing RPL and Traditional Training 
Let's compare the two approaches in detail: 
Assessment Method
RPL assessment focuses on evaluating evidence of existing skills and knowledge. This can include certifications, portfolios, skill demonstrations, and interviews with assessors.
On the other hand, assessment in traditional training typically involves exams, quizzes, assignments, and other standardised tests that evaluate knowledge retention.
Time and Cost Implications
RPL can be a more time and cost-effective qualification pathway since it recognizes and credits prior learning. This means you may need to invest less time and money to earn qualifications.
Traditional training programs require significant time and money, including fees, resources, and the opportunity cost of not working while studying.
Skill Development
RPL aims to recognise and formalise existing competencies. It may not delve as deeply into theoretical knowledge as traditional training but emphasises practical skills and experience.
Traditional training typically offers a more in-depth theoretical understanding of the subject matter, covering a broader range of concepts and often providing a deeper foundational knowledge base.
Learning Flexibility
RPL provides a high degree of flexibility in terms of learning pace and timing. Learners can progress through the assessment process at their own speed.
Traditional training adheres to a structured timetable and curriculum. The pace of learning is often predetermined and follows a set schedule. However, some training providers may offer some certifications or qualifications that learners can complete at their speed.
Making a Decision
Choosing the right path—whether RPL or traditional training—requires careful consideration of factors like personal circumstances, goals, prior experience, and learning preferences.
Here are steps you can take to make an informed decision:
Self-assessment: Evaluate your prior experiences, skills, and knowledge. Understand what skills you already possess and what gaps you need to fill to achieve your career goals.
Consider your career objectives: Research the qualifications and credentials required in your desired field. Consider what employers value and seek in potential candidates for job roles you are interested in.
Assess time and cost factors: Evaluate the time frame and financial investment required for both RPL and traditional training, considering your personal circumstances.
Seek advice: If unsure, seek advice from career counsellors and industry experts to gain valuable insights and recommendations based on your situation.
Choosing between RPL and traditional training is a significant decision that should align with your individual circumstances and aspirations. If you have prior documented experience, you can choose RPL assessment and fast-track your way to a recognized qualification. On the other hand, if you do not have the necessary skills and want to start your career in your desired field, traditional training might be the perfect fit for you.
Ready to take that transformative step? Explore a world of opportunities with DP Training, a premier training provider in Australia. Discover a plethora of nationally recognized certifications and courses that can elevate your skills and propel your career forward. Your future begins with a click — Explore DP Training Now.
Frequently Asked Questions
1. Is the certification acquired through RPL recognised by companies?
You can obtain nationally recognised certifications through RPL from a registered training provider, which are widely recognised and accepted in the industry. RPL assessment is designed to validate an individual's skills, knowledge, and experience; the resulting qualifications hold the same value and recognition as those obtained through traditional training methods.
2. How long does the RPL process usually take?
The duration of the RPL process can vary based on several factors, including the complexity of the qualification, the amount and quality of evidence provided, and the efficiency of communication between the applicant and the assessing organisation. On average, the RPL process can take anywhere from a few weeks to a few months to complete.
3. What Qualifications can be obtained through RPL?
RPL can be used to obtain a wide range of nationally recognised qualifications, including:
Certificate III
Certificate IV
Diplomas
Advanced diplomas
Vocational Education and Training (VET) qualifications