Job search can be both an exciting and overwhelming process, especially when you are looking for a job in a constantly evolving job market like Australia.
The country's dynamic economy offers a wide range of opportunities across diverse industries, making it an appealing destination for job seekers from Australia and other countries around the world.
However, with so many options available, it is essential to navigate the job market to find in-demand jobs that align with your skills. Whether you're a recent graduate taking your first steps into the professional world, a seasoned professional seeking a career change, or an international talent considering moving to Australia, knowing where to find in-demand job opportunities is the key to unlocking your potential.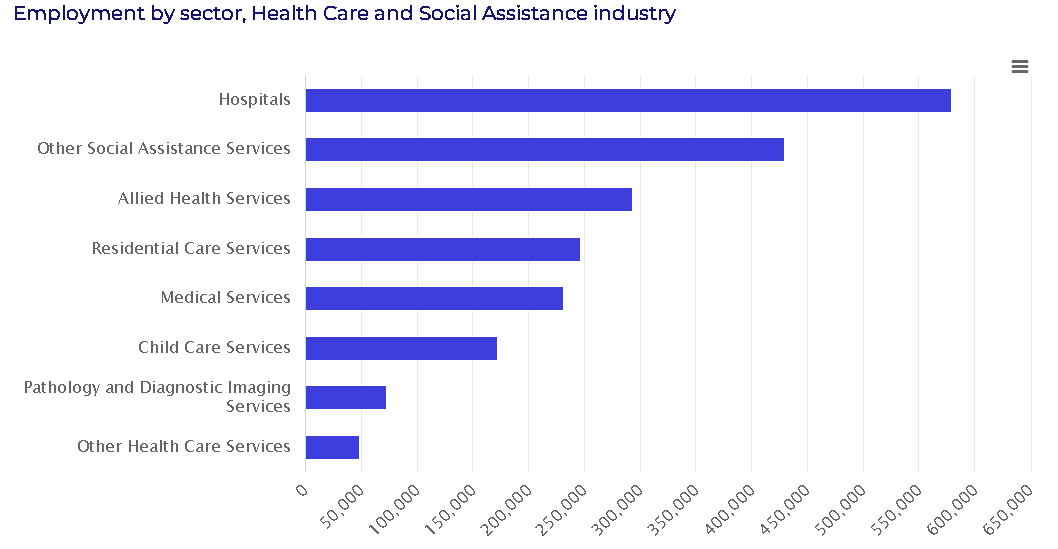 Why You Should Work in a Growing Industry
Working in a growing industry in Australia offers many benefits, including
Abundant Opportunities: Fast-growing sectors require more people to work and have more job opportunities. As these sectors expand, they create a multitude of roles across various levels of expertise. From entry-level positions to specialised roles and leadership opportunities, a growing industry opens doors for individuals at all stages of their careers.
Competitive Salary: In industries experiencing growth, the competition for skilled professionals can drive up salaries. Companies are willing to offer competitive compensation packages to attract and retain top talent. By contributing to the expansion, you can reap the rewards in terms of financial compensation.
Career Progression: A growing industry often translates to a higher demand for talent. This demand can lead to faster career progression as companies are keen on promoting and nurturing their top performers.
Job Security: Job security is enhanced in growing industries as they are less susceptible to economic downturns. The consistent demand for skilled professionals ensures that your expertise remains sought after, reducing the risk of layoffs or job instability.
In-Demand Jobs in Australia
To stay ahead of the competition, it is essential to recognize the emerging industries driving job growth. Several industries in Australia stand out for their high job prospects.
Heathcare and medical sector in Australia has witnessed a remarkable growth of 27.9% in the past five years and is expected to grow further. This growth is led by a combination of factors, including an aging population, advancements in medical technologies, and an increased focus on health and well-being. 
As a result, healthcare professionals are in high demand across various specialties. Some in-demand job roles in the healthcare industry are 
Aged care workers
Emergency medical technicians
Nursing Assistant
Patient support assistant
Health service assistants
Disability care workers
If you aspire to contribute to the well-being of others, consider enrolling in the Certificate III in health services assistant course to prepare yourself for a rewarding career as a competent healthcare support worker, assisting doctors and medical staff in various healthcare settings.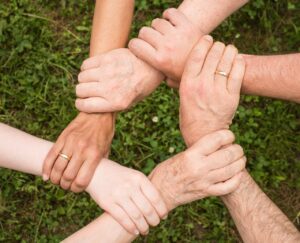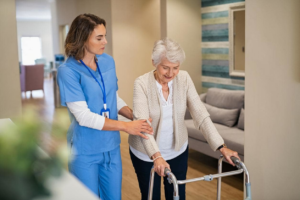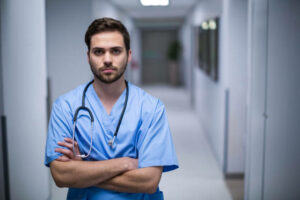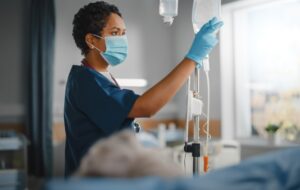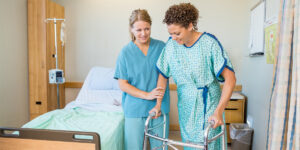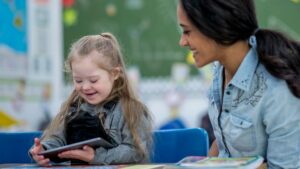 The community services sector is integral to Australian society, providing essential support to vulnerable individuals and communities. There is a growing need for skilled professionals in the community services sector, making it a great choice for those looking to build a career while making an impact in others' lives. Some in-demand jobs in the community services sector include
Community support worker
Community services specialist
Caseworker
Personal caregiver
Welfare support worker
Residential care worker.
If you want to build your career in community services and make a difference in people's life, start by enrolling in community services courses like Government funded Diploma of community services. This nationally-recognized program equips you with the necessary skills and knowledge to excel in community service manager, case manager, or support worker roles.
Businesses of all sizes require effective management and administration to operate smoothly and achieve their goals. Being a vital component of the Australian economy, the business sector offers diverse career paths. Some in-demand job roles in business administration are
Business Manager
Project Coordinator
Business development manager
Administration manager
Certificate III in Business (BSB30115) is an excellent choice if you're interested in administrative or business roles. This course equips you with the fundamental skills needed to thrive in administrative positions, customer service roles, or even supervisory positions.
Australia's vast geography requires a robust transport and logistics sector to facilitate the movement of goods across the country. From ensuring timely deliveries to managing supply chains, professionals in this sector play a crucial role in supporting economic activities.
In-demand job roles in this sector include supply chain managers, logistics coordinators, freight coordinators, and warehouse supervisors.
While road transport dominates, Australia's extensive railway network also plays a vital role. The railway network is responsible for the movement of passengers and freight across vast distances. Within the railway industry, job roles like Track Worker, Track Installer, and Track Maintainer are essential for maintaining safe and functional rail networks.
However, Australia's railway industry is grappling with a skill shortage. To bridge this gap and foster a skilled workforce, individuals can turn to specialized courses like the TLI37120 Certificate III in Rail Infrastructure and TLI27121 Certificate II in Rail Infrastructure and pursue a fulfilling career in this high-demand sector.
Where to Find In-Demand Jobs in Australia
In Australia's competitive job market, discovering in-demand job opportunities is essential to stay ahead. To find the most sought-after roles that match your skills and aspirations, you need to explore a variety of job search resources. Here are Australia's top job search resources:
Online Job Portals
Online job portals are the go-to resource for job seekers worldwide, and Australia is no exception. These platforms offer a wide range of job listings from diverse industries, making it easier for candidates to connect with potential employers. Some of the top online job portals in Australia include:
Online Job Portals
Depending on your field of expertise, industry-specific job search websites can be valuable resources for finding in-demand jobs in Australia. These platforms offer niche-specific job opportunities and often provide a deeper understanding of a particular sector. Some popular industry-specific job websites in Australia are:
HealthCare Australia: The website offers a specialized job portal for healthcare professionals. It offers job listings for doctors, nurses, dentists, home care, support workers, and allied health roles.
ArtsHub: ArtsHub is an arts-specific job search website that caters to creative professionals. It showcases job opportunities in the arts, media, and design industries.
JobAccess: It is a job portal and information website for people with disabilities.
APS Jobs: The website is dedicated to jobs related to Australian Public Services.
GradConnection: GradConnection is a website for TAFE and university graduates. Companies across Australia use this website to recruit recent graduates for various job roles.
Kinder Careers: This job website is specifically for job seekers interested in pursuing a career within the early childhood education industry.
You can directly target your job search using industry-specific websites, making it easier to find roles requiring your specific expertise.
Recruitment Agencies
Recruitment agencies act as intermediaries between employers and job seekers, helping both find the best match for their needs. They have established connections with various employers and can help job seekers connect with the right job listings that are often not available on public job boards.
Look for reputable and well-established recruitment agencies with experience in your industry. Check their reviews on various platforms online and also research their success rate in placing candidates. When working with a recruitment agency, understand the specific requirements of the positions they offer and tailor your resume and cover letter accordingly to increase your chances of selection
Company Websites and Career Pages
Many companies post job openings on their official websites or dedicated career pages. Take the time to visit company websites directly to explore job opportunities, as some roles may not be listed on job portals.
When applying through a company website, research the company thoroughly to understand its values, culture, and requirements. Tailor your application to showcase how your skills and experience align with their specific needs.
Upskill for In-Demand Australian Jobs with DP Training
In the ever-evolving landscape of the Australian job market, staying competitive means continuously enhancing your skills and knowledge. With industries like healthcare, community services, business administration, and transport and logistics seeking skilled professionals, the need for specialized training has never been more crucial. That's where DP Training comes in.
DP Training is your gateway to upskilling and tapping into the high-demand job sectors in Australia. All courses listed on our website are nationally recognized and comply with the Australian Quality Training Framework, State and Federal regulatory body requirements.
Explore our diverse range of courses catering to different industries and career goals.
Don't let the opportunity to thrive in these high-demand sectors pass you by. Upskilling with DP Training prepares you for the job market and positions you as a valuable asset in industries shaping Australia's future. Take the next step towards a rewarding career – join DP Training and embark on a journey of growth and success.
Frequently Asked Questions
1. How can I upskill to meet the demands of the job market?
To upskill and meet the demands of the job market, identify the skills in demand in your desired industry. You can enrol in diploma and certification courses and attend workshops aligning with the in-demand skills. Additionally, consider participating in industry-related projects, internships, or volunteering opportunities to gain practical experience and enhance your resume. Continuous learning and staying updated with industry trends will make you a more attractive candidate to potential employers.
2. Can networking help in finding in-demand jobs?
Networking can be a powerful tool for finding in-demand jobs. Building a strong professional network allows you to connect with industry insiders, potential employers, and colleagues who can inform you about hidden job opportunities that may not be publicly advertised. To build a strong network, you can attend industry events, seminars, and conferences to meet people in your field and engage in meaningful conversations.
3. How can I stand out in job interviews and secure the desired job?
To stand out in job interviews, thoroughly research the company and industry, tailor your responses to showcase how your skills and experience align with the job requirements, and demonstrate genuine enthusiasm and passion for the role and the organisation. Additionally, prepare thoughtful questions to ask the interviewer to show your interest and engagement in the position.