Getting the Most Out of RPL Assessments for Fast-tracking Your Qualification
Are you looking to take the next step in your career, but the lack of relevant formal certification or qualification within the industry is stopping you?
Did you know you can turn your years of hard-working experience into a nationally recognised qualification?
Yes, with Recognition of Prior Learning (RPL), you can convert your employment experience and prior formal, informal, and non-formal learning into nationally recognised qualifications.
The pathway allows you to fast-track your qualification without undertaking any training or studying a course. So, if you are an experienced professional looking to upskill and move forward in your career, understanding RPL can help you achieve your goals more effectively.
What is Recognition of Prior Learning?
According to the Australian Skill Quality Authority:
"Recognition of Prior Learning (RPL) means an assessment process that assesses the competency of an individual that may have been acquired through formal, non-formal, and informal learning to determine the extent to which that individual meets the requirements specified in the training package or VET accredited courses."
Recognition of Prior Learning (RPL) is an assessment-only pathway that recognises the skills and knowledge you have gained through work experience and learning and turns them into relevant qualifications. RPL not only allows you to achieve higher qualifications but is also an effective tool to prove your competency within the workplace. To be eligible for RPL, you must demonstrate that you have the required skills and knowledge for the qualification you seek recognition for. This can be done through various forms of evidence, such as:
Work experience
Job training certificate
Assessment records
Declaration from the employer
Record of volunteer work
Documented workplace examples
Images and Videos
The evidence should be relevant to the qualification and meet the required competency standards.
In an RPL assessment, your industry experience, professional knowledge, and skills will be assessed and compared with the performance standards for the qualification's competency.
What Qualifications Can Be Obtained Through RPL?
The RPL process can be used to obtain a wide range of qualifications, including
Certificate III
Certificate IV
Diplomas
Advanced diplomas
Vocational Education and Training (VET) qualifications
The qualifications available through RPL depend on the requirements of the relevant occupation or industry and the skills and knowledge of the individual applying for RPL.
What is the difference between getting a qualification through formal studies and RPL?
RPL is an assessment-only pathway for those who have gained skills and knowledge through working in the industry, while formal studies are for those who do not have any knowledge and want to gain a qualification to build their career.
For example, if someone has been working as a community support worker for three years, they can request an RPL assessment for Certificate III in individual support rather than studying the course according to the Australian Qualifications Framework.
Are the qualifications obtained through RPL accepted all over Australia?
Yes, qualifications obtained through RPL from registered training organisations are accepted all over Australia, as RPL assessment is a legitimate way of demonstrating your existing skills and knowledge to gain a nationally recognised qualification.
RPL offers many benefits to anyone looking for a formal qualification in their industry:
Provides formal recognition of your skills
RPL assessment provides formal recognition of the skills and knowledge gained through work and formal or informal learning. You will gain a formal qualification reflecting your industry competency and expertise.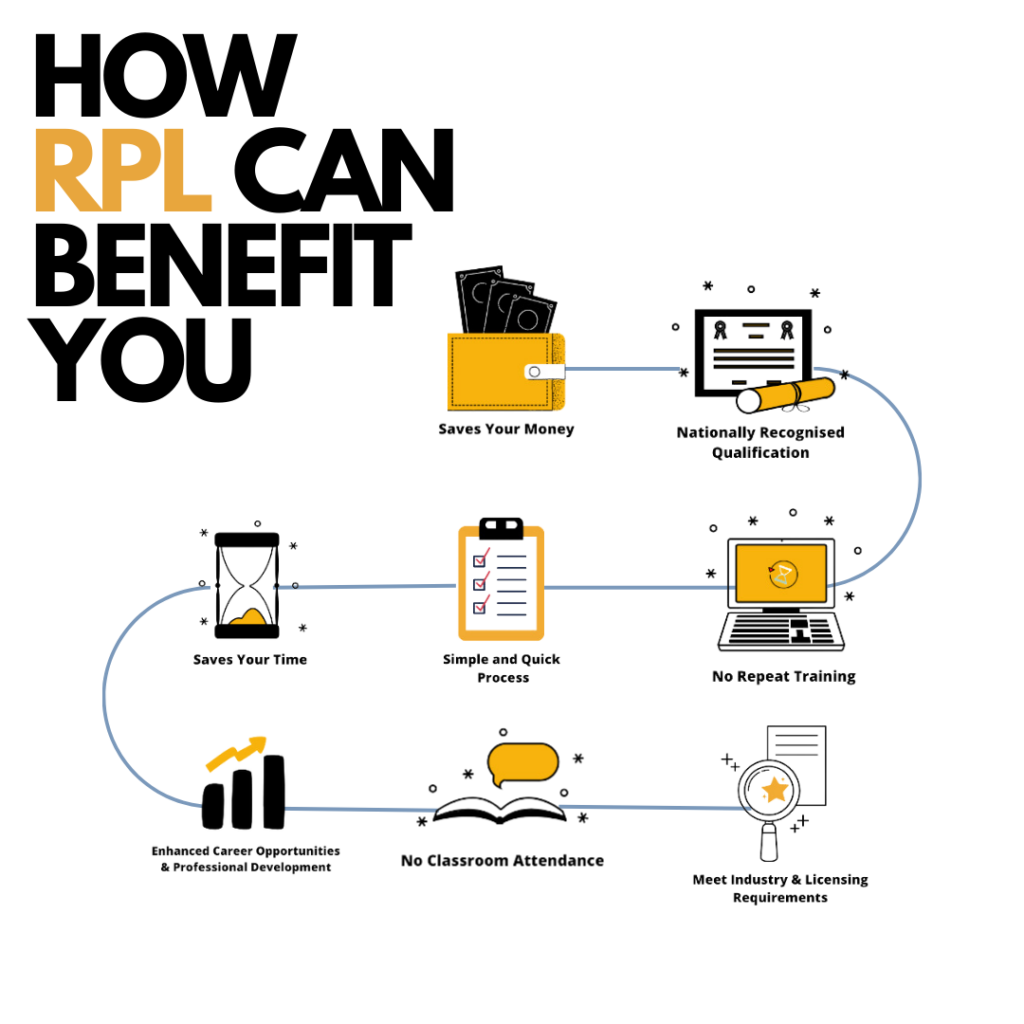 Provides nationally recognised qualifications
Through RPL assessment, you can obtain nationally recognised certifications, diplomas, and advanced diploma qualifications that comply with the Australian Quality Training Framework.
Enhances career opportunities
RPL can open doors to career advancements and professional development. By obtaining a qualification through RPL, you can meet professional requirements for advanced job roles and open new career pathways. In addition, the qualification will also help you stand out from other candidates when applying for jobs, making you a more suitable candidate for the role.
RPL can also enhance job prospects and help increase your earning potential. This can be particularly valuable if you are looking for career advancements.
Fast-tracking qualifications
By obtaining recognition for existing skills and knowledge, you can fast-track your qualifications and complete them in a shorter time without attending classes and training and avoiding repetitive studying for something that you already know. This helps in faster career advancements and professional development.
5. Saves time and money
RPL can be a cost-effective way of obtaining a qualification as it eliminates the need for training and vocational placement. In addition, you won't have to leave your existing job to attend classes and training sessions. This can save you time and money.
The first step in the RPL process is to undertake a self-assessment to get an overview of your level of industry experience. This will involve identifying the areas of expertise and determining the qualification for which you want recognition.
The next step is to gather evidence demonstrating your existing skills and knowledge. This could include job letters, work samples, position descriptions, supervisor testimonials, and a detailed resume. You can include your current and previous work experiences.
In this step, you will be required to answer a few questions based on the qualification for which you want recognition. This will help the assessor evaluate your level of knowledge. Upon submitting your assessment, the assessor will arrange a conversation to verify your competency and expertise.
The assessor will verify your employment within the industry by asking your supervisor to complete a report. The supervisor will also be asked to undertake a verification of the information you provided.
You will be asked to provide a list of work-based evidence as your portfolio that will support the skills and knowledge you gained at your workplace. The portfolio can include work-based forms, timesheets, and images and videos from the workplace.
The assessor will review the documents submitted during the previous steps and map them against the units of competency for the qualification for which you have applied. They will also assess how the provided evidence aligns with the qualification's units of competency.
Once the assessor confirms that you meet all the requirements, your nationally recognised certification will be issued, and a Statement of Results will be granted.
Recognition of Prior Learning (RPL) is a valuable tool for individuals looking to fast-track their qualifications and achieve their goals more efficiently. By recognizing existing skills and knowledge, RPL can provide validation and formal recognition, enhancing your job prospects and career advancement opportunities.
If you are interested in fast-tracking your qualifications through Recognition of Prior Learning, DP Training can help. DP Training is one of Australia's leading registered training organizations that offers nationally recognised qualifications.
Contact us today to learn more about how RPL can benefit you and get you started on your journey to success.
Frequently Asked Questions
1. Do I need to be currently working to apply for RPL?
Yes, you need to be working to apply for RPL, as the pathway requires you to submit workplace evidence documents along with other supporting documents that need to be verified by your current employer.
2. Can I obtain multiple qualifications through RPL at once?
Yes, you can obtain multiple qualifications through RPL at once. However, it will depend on specific qualifications and the requirements of the RTO. It is recommended to check with the training provider for the requirements of each qualification you are looking to obtain.